How to Reduce, Reuse, and Recycle During Renovations
Did you know that according to the U.S. Green Building Council (USGBC), building construction accounts for a full 40 percent of materials used and 30 percent of the total waste stream in the United States? That's a ton of waste. (Technically, it's hundreds of millions of tons.) Not only is that bad for the planet in terms of waste, it's also a poor use of resources. Next time you're in the planning phase of either building or making over your home, take a more eco-friendly route (it's better for your budget, too!). Here's how to reduce, reuse & recycle during renovations.
Reduce
Reduce Overall Size
If you're starting from scratch or considering an addition, seriously consider going small. There are numerous innovative designs that can help you use your space efficiently and use far fewer materials (and energy!). This may require a bit of planning and design help, but it's totally worth it. Channel the "Tiny Home Movement" (we don't expect you to go that little, but you get the idea, right?). Tiny dwellers come up with some incredibly brilliant ideas for maximizing space -- here are over 100 of them!
Look Into Prefabricated and Modular Homes
Most factories that manufacture homes have streamlined their production and waste process, and are able to spot (and address) resource inefficiencies easily. According to the Waste & Resources Action Program (WRAP), a whopping 90-percent waste reduction can be achieved by increasing the use of off-site construction.
Reuse
Repurpose Your Space
This may seem obvious, but instead of doing a demo, work with what you've got and make something new out of an existing structure. This is a simple idea that still allows you plenty of room for a fresh design but will save tons of resources (no need for a new foundation and brand-new building materials). Think along the lines of HGTV's "Good Bones" if you need inspiration for this concept. This mom and daughter duo buy dilapidated homes and strip them back to the studs (aka "bones") to breathe new life into them.
Opt for Deconstruction
When tear-down is necessary, go for the deconstruction process rather than total demolition. That way, you can sort through materials that can be recycled or reclaimed, rather than everything going into the waste stream. Look for a contractor who has deconstruction experience!
Do Some Creative Upcycling
Whether you use materials from your own renovation, visit a local salvage store, or check out Craigslist or PlanetReuse, get creative with building materials looking for a second life.
How about using old doors for cabinet doors?
Or using an old dresser as a vanity?
Or using aged tin ceiling tiles for a statement wall?
Recycle
Donate
Look into the many ways to donate your furniture, appliances, and building materials to someone else who could reuse them. You can post them to a local free market, put them on the free section of Craigslist, or give them to Habitat for Humanities' Restore so that they can sell them to someone looking for low-cost building materials (which also helps support an amazing non-profit). You get rid of your stuff and help out a family in need, it's a win-win!
Pick Recycled Materials
Do your research and try to choose building materials made of recycled content when you can. Insulation, carpet, lumber, glass tiles, concrete aggregate, and drywall are all examples of materials that can be manufactured with a high recycled content. If you can't find materials made of already recycled content, you can at least choose materials that can be easily recycled in the future (asphalt roofing, both ferrous and non-ferrous metals, window glass, and more). And if you're worried that recycled materials are any less beautiful or durable – that's absolutely not the case. Check out this gorgeous recycled glass and concrete countertop: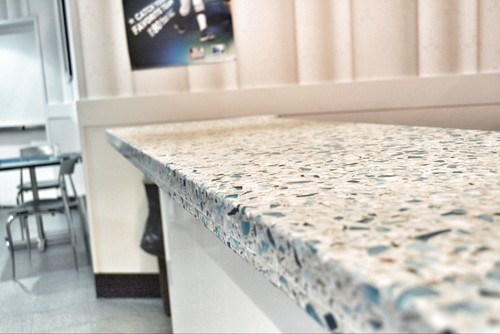 More tips:
Try to avoid using traditional adhesives, laminates, and protective finishes because they limit the possibility for reuse and recycling.
Use advanced framing techniques to optimize your lumber use.
Wood chip trees that might have been cleared during your project and use the chips for landscaping.
Get suppliers to buy back unused extras.
Find more ideas using the USGBC's Green Home Guide.
One final (shamelessly self-promotional tip), use ECOS Paints, stains, varnishes and other finishes! Our non-toxic* paints and finishes are better for both you and the environment. Plus, ECOS Paints cover up to 1.5 times more surface area than traditional paints because our products aren't diluted with cheap solvents and fillers — they're naturally thicker, mask better and cover your walls with ease. With ECOS, you use fewer resources, spend less time painting and less money per square foot. Also, we use containers that are 100% post-consumer recycled and 100% recyclable. Our shipping boxes are also recycled and recyclable. We even recycle our processing water.
*Conforms to ASTMD-4236, specifically concerning oral toxicity, skin irritation and respiratory effects.
Do you have other ideas for how to reduce, reuse and recycle during renovations? Share them in the comments!
COMMENTS